In the past week many of you who are Gakyil members would have seen the notice from the International Gakyil (IG) providing information on guidelines for membership in 2014.  As the planned start date for "global membership" is still January 2015, what we are hoping to achieve in 2014 is simply greater convergence of the Membership System and associated benefits for each membership tier.  If this convergence can be improved during the 2014 membership renewal period, the impact on members in January 2015 will be less dramatic, and essentially, be more related to technical aspects of how one renews and enters personal information into the database.
As the IG has written previously, the rationale for moving to an international membership system is firstly to achieve Rinpoche's stated goal of having the Community "feel and act as one community."  In order to achieve this we will need to standardise the essential aspects of the Membership System.  The important points of standardisation we are seeking to achieve in 2014 were noted in the IG Blue notification on 4 December, i.e., Introduction of a Welcome Card system and greater consistency in fees & benefits offered to higher membership tiers (Sustaining members and Meritorious members).  The use of a Welcome Card system addresses the important points of "ownership & responsibility" that Rinpoche reminds us are the purpose for having a membership system.  While, standardising the higher membership tier fees & benefits, aims to achieve unified economic rationale where we have the most flexibility; those members with the greatest capacity to financial support the IDC.
If our modifications to the membership fees & benefits are successful, what we should expect to achieve are "healthy" trends in membership activity.  Some of these improved trends we would like to see are;
New members (Welcome Card) consistently renewing their membership
Increases in Sustaining Membership
Stability in Meritorious Membership
Shifts from Reduced Membership to Ordinary Membership
Growth in new members from all Regions
To measure the improvements to membership trends we need to understand as best we can our starting point.  Unfortunately, without an international database, we are unable to generate reliable membership data on a global basis.  Nevertheless, in order to glean some information from what data we have available, we've used survey results, partial database work and country estimates to arrive at 2012 IDC Membership numbers.  While not perfect, we should at least be able to obtain some comparative membership trend information from use of this data as the starting point.
We provide here a few graphs to get a feel of what our Community looks like from "type" of membership and "location" of membership perspectives.  As one would expect, Ordinary Membership makes up our largest group, followed closely by Reduced.  Our three largest membership bases are Meri Gar West, Samten Ling and Kunsan Gar North.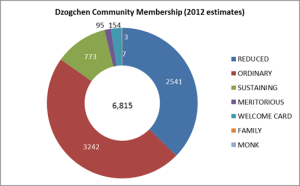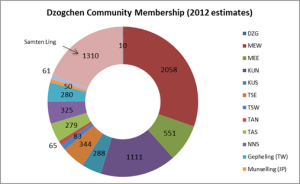 While data are obviously not perfect, what can be useful in these graphs is for the members of the IDC to understand how much it has grown, and where it will grow to in the future.  IG Yellow and the Membership Committee will continue to update these graphs annually in order to provide information and perspective to our global members.  The updates for 2013 we will try to have ready by March.
Mark Farrington